No matter how big or small a space you have, you can help Scotland's wildlife. Below are some tips on what to do with your wildflower seeds and ideas on other ways to attract pollinators.
Gardens:
Be creative with sowing your seeds. You can create a border, circle trees or even create a wildflower maze for the children. Sunny, sheltered borders will attract more bees and butterflies than shady, windy sites so sowing seeds against fences that trap the sunlight is a good idea.
You can incorporate wildflower seeds into existing flower beds if you don't have room to create a separate wildflower meadow.
Wildflower meadows:
Wildflower meadows need to be managed following a yearly pattern. Once you have sown the seeds in the summer, leave them alone! Give them time to settle and shed. When you cut the grass, remove all the cuttings. This helps to keep the fertility of the soil low, which prevents weeds and grasses from taking over. Mow your meadow a few times until around Christmas, remembering to remove the clippings each time and then leave the meadow alone until you see pollinator plants springing to life in Spring.
Window box or rooftop:
Do not worry if you don't have a garden or access to open spaces, you can plant the seeds in pots, window boxes or even on your rooftop if you have safe access. Any container can make a good plant pot, why not upcycle plastic bottles, half whisky barrels or plastic containers. Don't forget to put holes in the bottom for water drainage.
Build a bug hotel:
Building a bug hotel is fun, easy and a great way to use up leftover materials. Pallets can be used as a basic structure by placing up to five on top of each other and filling the gaps with different items. 
Try to find dead wood, dry leaves and loose bark from your garden, local park or woodland to put in the hotel. Bamboo canes are excellent for solitary bees as the female bee will lay her eggs on top of pollen at the end of the hollow tube and then seal up the entrance with mud to protect the eggs. 
If you can't get hold of pallets, pile up some dead wood logs in a dry space in the garden as a natural, safe habitat for wildlife to use. Drill holes in logs to create spaces for solitary bees. You can also create a miniature bee hotel using a plastic bottle. Cut the top off, fill with canes and tie with string to a tree. 
Make a wood pile: 
Simply leaving dead and decaying wood in a pile rather than removing it can help wildlife. It provides a home for insects, as well as lichens, mosses and fungi. You might even have visits from birds looking for a tasty insect snack!
Gather logs, dead branches and wood cuttings in a compact pile on the ground in a bit of shade - too much sun will dry the wood out which doesn't make a nice home. Too much shade can make it too cold for the insects though so dappled shade is best.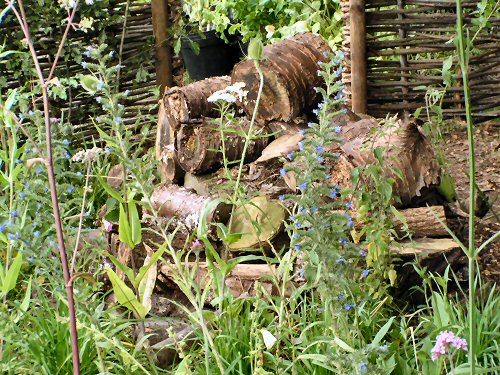 Image: Richard Burkmar
Keep a record of the wildlife you discover, take photographs and tweet us @KSBScotland. We love hearing about your success stories!